USFWC Conference in Philly
---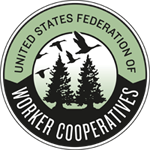 This past weekend I attended the U.S. Federation of Worker Cooperatives (USFWC) conference in Philadelphia. I went there along with fellow NOVALACIRO Board members Heylin Rodriguez and Lorena Contreras, NOVALACIRO organizer Johanna Garay, and the three worker owners of the cleaning cooperative Mujeres Manos a la Obra, Dilcia Contreras, Anita Maldonado, and Lorena Contreras (Lorena is both a NOVALACIRO Board member and a worker / owner of Mujeres Manos a la Obra).
When Heylin, who was then our organizer, and I attended the last USFWC conference in 2019, it helped propel our little non-profit organization forward along its path to become a worker coop developer, and while it's a bit early to know the full extent of its impact so soon, I feel confident that this conference has likewise been a huge help to both NOVALACIRO and the worker owners of Mujeres Manos a la Obra in preparing us to take our next steps forward.
Huge Shoutout to Maru and the Co-op Clinic!
The highlight of the conference for me was the 30 minute consultation we had with Maru Bautista on Friday afternoon in what the conference called a Co-op Clinic. Thirty minutes does not seem like much time, but Maru used it so efficiently that we got more value out of the session then we usually get in trainings and discussions lasting hours. All of us attended the clinic from both NOVALACIRO and Mujeres Manos a la Obra. Maura diagnosed our situation through a rapid fire discussion with Heylin and the three cooperators. It was clear her wealth of personal experience helping launch cleaning cooperatives in New York gave her the ability to ask just the right questions and to immediately get an understanding of our current situation.
At the end of our clinic I also had a chance to share with Maru our concerns from a discussion we had the previous week with our funder in which we discussed planning our next cooperative project. Once again, her knowing expression revealed an immediate understanding of the dynamics at play, and her sage advice helped us feel confident we had a clear path forward.
To sum up what I took away from our clinic meeting:
NOVALACIRO still has a long way to go to support Mujeres Manos a la Obra in consolidating itself as a successful worker cooperative, including helping them establish more formal and regular democratic processes, and working to incorporate regular and continued education about what worker cooperatives are and how they function (see Cooperative identity, values & principles).
Consolidation should be NOVALACIRO's focus in the coming year. It is too early to consider taking on another project, which would just overextend our little organization before it's ready. Instead, both we as cooperative developers and Mujeres Manos a la Obra as a worker cooperative should focus on strengthening our respective organization and the relationship with each other.
I was especially delighted to have a concrete actionable ToDo item to take home with me. We have been struggling for over a year to help the co-op setup a bank account due to the challenges of producing the required paper work and documentation that the banks we have spoken with have demanded.
My instinct was to focus on Arlington Community Federal Credit Union (ACFCU), since it is the principle financial cooperative in Arlington. Worker cooperatives are not well understood in our community, and our credit union is unfortunately no exception to this unfortunate reality. ACFCU not only wanted the operating agreement of Mujeres Manos a la Obra in order to bank them, but the full documentation on every worker owner in the co-op. This has been a show stopper, and from our discussion at the clinic it may be needlessly so.
It is now our duty as a worker cooperative developer to educate our community credit union, which states after all that "empowering our members and community is our passion" in the message members hear when we dial member services. NOVALACIRO should help ACFCU satisfy its passion.
Maru reinforced this sentiment at our clinic session. What's more, she said she works with a credit union in New York that has been most helpful with worker co-ops there, and she told me she could put me in touch with them. I plan to call them and ask for the name and phone number of someone who would be willing to speak with someone at ACFCU about how they bank worker cooperatives.
Once we enlighten our local credit union, the path for future worker cooperatives in Arlington will be that much easier to tread.
Educating Our Community
NOVALACIRO had a table this year at the Arlington County Fair. This opportunity to have two days of conversations with members of our local community revealed just how little is known about worker cooperatives in the general community. As a worker co-op developer, we need to do something to address this lack of understanding. In the year ahead we should plan community events aimed at informing Arlington residents in general, and community activists in particular, about the benefits of worker ownership toward the goal of creating a more just and equitable society.
We all left the conference with a much clearer idea of what we need to do in the months ahead, as well as strengthened bonds between us which will help give us the strength to carry our work forward. I look forward to next year's USFWC Eastern regional conference, where if we do our work well we be able to reflect on all the progress we made in 2022-23!